You Fine could provide all kinds of Casting Bronze Sculptures ,Such as bronze garden ornaments,bruno catalano sculpture,abstract bronze traveler statue,price of bruno catalano sculpture and other custom bronze casting sculpture.
No matter the style you are looking for, You Fine is sure to have many selections to suit your  decor and lifestyle for Bronze Sculptures.
A good quality Bronze Sculptures, not only need nice design, but also good casting quality.
We are always proud of our casting quality. With advanced lost-wax casting, finest welding & chasing skills, excellent patina and best bronze raw material, we always supply art-quality casting.
French artist Bruno Catalano has created an extraordinary series of eye-catching bronze sculptures called "Les Voyageurs" in Marseilles that depict realistic human workers with large parts of their bodies missing.
The sculptures were put on display in Marseilles to celebrate its position as the 2013 European Capital of Culture. They are skillful works of art even without the omissions, but the missing parts of the sculptures make them truly extraordinary and unique. They leave room for the imagination – are they missing something, or is it something that these "voyagers" have simply left behind? What's especially impressive is that some of the sculptures seem to stand on very little support, giving them a sort of ethereal and surreal appearance.
The Different Advantages of YOU FINE ART SCULPTURE.CO.LTD
A.30 Years Persistence for Bronze traveller Sculptures
B.Factory Direct Supply Give You Reasonable Price
C.One-Stop Service for All Customs
D.Professional Design Team of Bronze Figure Sculptures
E.Solving the Question for You Friendly
F.One Time Visiting Our Website ,Making Friends Forever
G:We Can Make Any Sculpture in Bronze!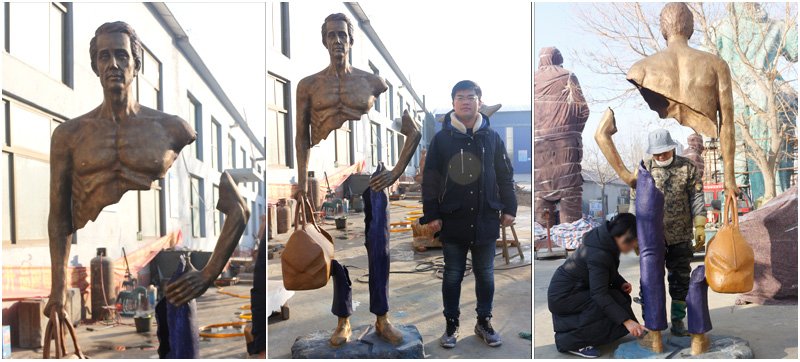 Here at You Fine, our motto is quality, value, and customer service of the highest standard. Every art has one story, and each product is meticulously created with the highest degree of workmanship paying special attention to detail and design, yet made affordable to general public.
As a professional artist, YouFine is commissioned to create many different subjects, styles and sizes of custom bronze catalano sculpture. But each and every les voyageurs sculpture has her one of kind master's touch and attentional to detail. The bronze art shown here is just a sample of the extensive francis catalano art gallery. YouFine can create a frances bruno catalano sculpture or art bruno that will touch the hearts of those who see it. He has a knack for making life-size bronze portrait statues that actually look like the individual.
If you need our Casting Bronze Sculptures,like Bronze Figure Statues,bruno catalano sculpture,famous bronze sculpture,bronze traveler statue..Please feel free to contact us and our sales agents in China, Europe, and US will serve you whenever and wherever you need us. Our goal is to achieve win-win cooperation and do our best to service for you.