Garden art sculpture from Sculptor bruno catalano detail:
French artist Bruno Catalano has created an extraordinary series of eye-catching bronze sculptures called "Les Voyageurs" in Marseilles that depict realistic human workers with large parts of their bodies missing.Bruno Catalano is a sculptor born in 1960 in Khouribga, Morocco, a town near Casablanca. Despite a difficult schooling, Catalano spend ten beautiful years in a metis and post-colonialist environnement with his family.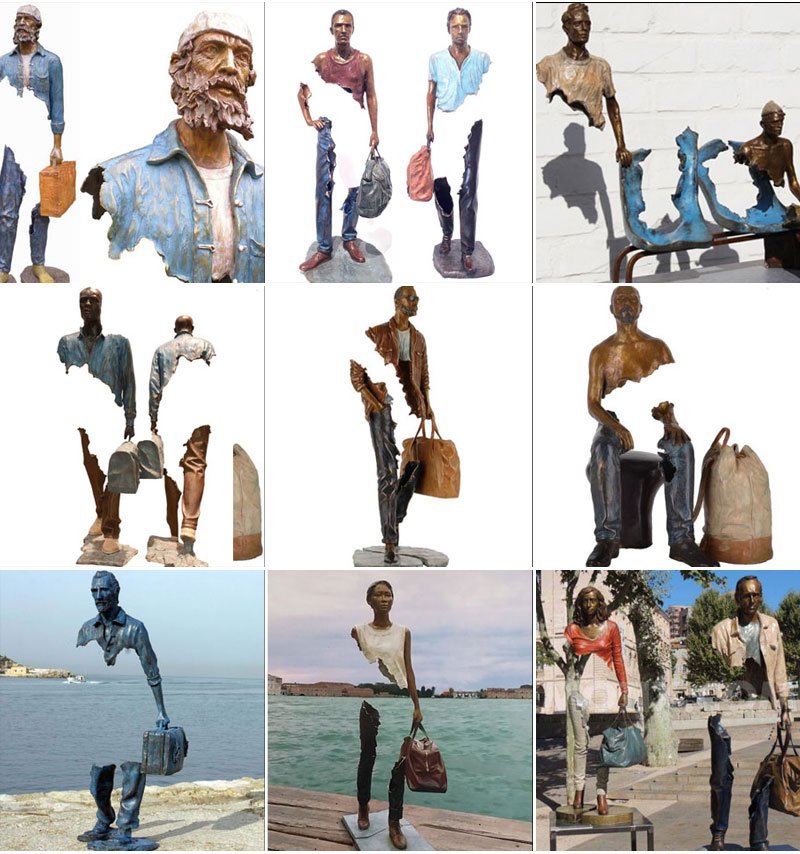 little support, giving them a sort of ethereal and surreal appearance.
Not all of Bruno Catalano's works are of someone standing tall with a briefcase, but there is definitely a theme, and travel is a huge part of it. The real joy comes in the delicate composition and the extremem realism.
This bronze sculptures are designed by our famous artists, using realism and Magicalism in a way that enables people to think about their relationship with the world through this artwork.
Garden art sculpture from Sculptor bruno catalano Advantage
A.World Leading Sculpture Designer and Manufacturer
B.First Art Quality
C.Best wholesale prices
D.Door-to-door delivery
E.Free CAD/3D design service
F.Brochures and HD sculpture photos
G.30-year Factory Guarantee
H.Excellent After-sale service
I.Strong fumigated wooden cases Packing
WHAT OUR ARTISTS SAY Bronze traveler sculpture
Many artists have worked with us for 10, 20, even 30 years, because they know our people deliver superior craftsmanship and will remain faithful to their design and their intent for a piece. If you are a sculptor seeking a bid or a foundry to cast your work, we'd love to hear from you. When you put your creation in the hands of our experienced staff, you can rest assured you will receive a quality finished piece, delivered on time, at a competitive price.
The Different Advantages of Garden art sculpture from Sculptor bruno catalano
A.30 Years Persistence for Bronze Sculptures
B.Factory Direct Supply Give You Reasonable Price
C.One-Stop Service for All Customs
D.Professional Design Team of Bronze Sculptures
E.Solving the Question for You Friendly
F.One Time Visiting Our Website ,Making Friends Forever
If you want to know more about our product  Garden art sculpture from Sculptor bruno catalano
Please feel free to contact us and our sales agents in China, Europe, and US will serve you whenever and wherever you need us.
Our goal is to achieve win-win cooperation and do our best to serve you.