Modern Bruno catalano Bronze Traveler Sculpture for Sale detail:
In 2004, one of Bruno Catalano works – a representation of Cyrano – was deteriorated. The incident led the artist to dig and scoop out its trunk. His new sculptures, then turned quickly experienced immediate success.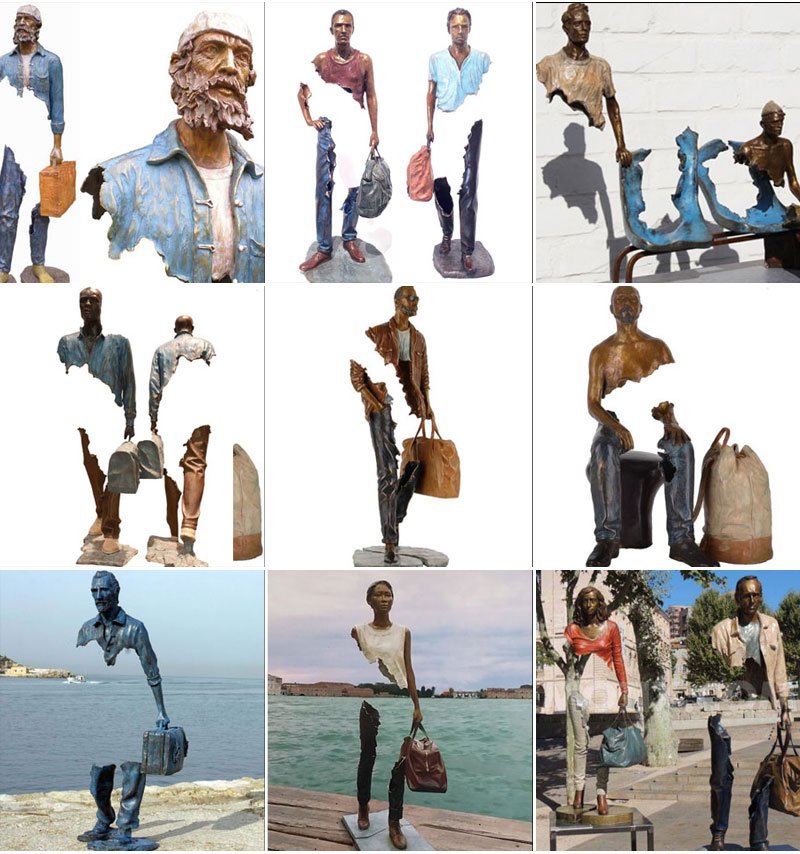 Bruno Catalano is a French artist whose sculptures are often missing pieces. The human figures are travelers heading towards unknown destination, lacking important pieces but still standing. It's as if someone took the Photoshop "eraser" tool to them! Mr. Catalano was born in Morocco and a lifetime as a sailor inspired him to make these intriguing sculptural works.
little support, giving them a sort of ethereal and surreal appearance.
Not all of Bruno Catalano's works are of someone standing tall with a briefcase, but there is definitely a theme, and travel is a huge part of it. The real joy comes in the delicate composition and the extremem realism.
This bronze sculptures are designed by our famous artists, using realism and Magicalism in a way that enables people to think about their relationship with the world through this artwork.
Modern Bruno catalano Bronze Traveler Sculpture for Sale  Advantage
A.World Leading Sculpture Designer and Manufacturer
B.First Art Quality
C.Best wholesale prices
D.Door-to-door delivery
E.Free CAD/3D design service
F.Brochures and HD sculpture photos
G.30-year Factory Guarantee
H.Excellent After-sale service
I.Strong fumigated wooden cases Packing
WHAT OUR ARTISTS SAY Modern Bruno catalano Bronze Traveler Sculpture for Sale
Many artists have worked with us for 10, 20, even 30 years, because they know our people deliver superior craftsmanship and will remain faithful to their design and their intent for a piece. If you are a sculptor seeking a bid or a foundry to cast your work, we'd love to hear from you. When you put your creation in the hands of our experienced staff, you can rest assured you will receive a quality finished piece, delivered on time, at a competitive price.